Unlock the potential of intricate paint-by-numbers projects with our Hand Held Magnifier. Specifically crafted for artists, it's a versatile tool that enhances precision and accuracy. Our Hand Held Magnifying Glass with magnifying lens and LED light enhances clarity, accuracy, and detail in artwork, reducing mistakes. Elevate your paint-by-numbers experience and bring your creations to life with enhanced precision and attention to detail.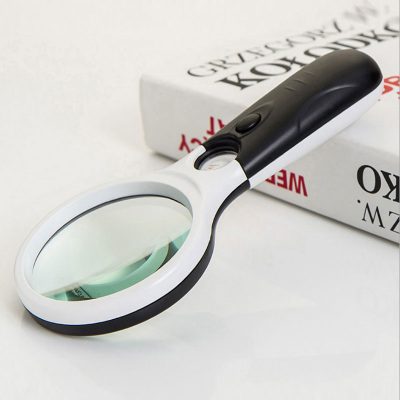 The Benefits of Hand Held Magnifier:
Improved visibility: Enhance visibility and precision with our Magnifying Glass. Bright LED light and magnifying lens reveal small details, aiding accuracy and detail in your paintings.
Reduced eye strain: Working on a detailed paint by numbers project can be tiring on the eyes, especially if the artist is working in low light conditions. Hand Held Magnifying Glass provides bright and focused illumination, which can help reduce eye strain and fatigue during long painting sessions.
Increased accuracy: With improved visibility and reduced eye strain, artists using a magnifier LED light can achieve greater accuracy and precision in their painting. This can result in a finished painting that is more vibrant and detailed, with fewer mistakes and errors.
Versatility: The handheld Magnifier LED light for paint by numbers typically possesses versatility due to its lightweight and portable design, making it convenient to use regardless of the artist's location.
Improved productivity: With improved visibility and reduced eye strain, artists using a magnifier LED light can work more efficiently and productively, which can help them complete their projects faster and with better results.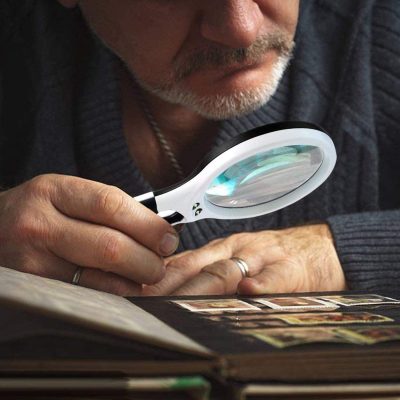 Enhance your painting by numbers experience with the convenience and usefulness of a Hand Held Magnifier. Perfect for detailed work, it provides enhanced visibility and lighting. Its portable, ergonomic design ensures easy on-the-go use. See small details clearly with our indispensable Hand Held Magnifier. Magnifying lens and LED light enhance precision for intricate artwork.
Specifications: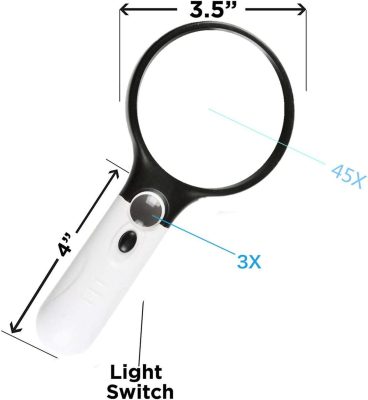 It has 3 LED lights and provides two lenses – one 3X augmentation (big lenses) for general use and a smaller 45X lens for tiny objects.
NB: batteries are not included. It works with 3 AAA batteries.