Take Your Little Vacation From The Real World!
Mexican Cactus paint by number is an amazing way to get away from your smartphone screen and channel your energy into an accomplishment. Since not everyone is an artist by nature or training, settling for artwork that comes with directions is the best option. Effortlessly paint your wall art with our paint by number kit regardless of your experience.
Relaxing and Joyful: Drawing with Paint By Numbers could be very amusing and joyful. The pleasure of creating a stunning work of art is beyond description. It will help you to relax yourself and decrease stress in your leisure time.
Increases Mindfulness & Creativity: With no prior art experience, you can create this masterpiece! While experience hours of joy and satisfaction, you develop a calmer state of mind by tapping into the alpha brain waves.
Fantastic bonding Activity: Spend a night in with family or friends to create your own beautiful piece of art to share.
Perfect Gift: Might be a mother's day or the birthday of a best friend, these adult paint by number are an awesome gift idea.
Easy to Use: This easy-to-use Paint by numbers kit comes with paints, a canvas, and hooks so you can finish your artwork and hang it too. You never knew how easily you may flaunt your artistic expressions. Did you?
Intense Decoration: Paintings are highly preferred as beautifying items because of their heartwarming influence. It is a perfect item for decorating home, apartment, office, hotel, restaurant and any other place.
For All Ages: This interesting paint by numbers is suitable for anyone who wishes to try their hand at art! They can be kids, teens, adults, and the elderly.
1x Numbered acrylic paint set (About 24 different colors, depending on the painting)
1x Numbered high-quality linen canvas
1x set of 3 paint brushes (1x small, 1x medium, 1x large)
1x hanging kit, including 2x screws and 2x non-track hooks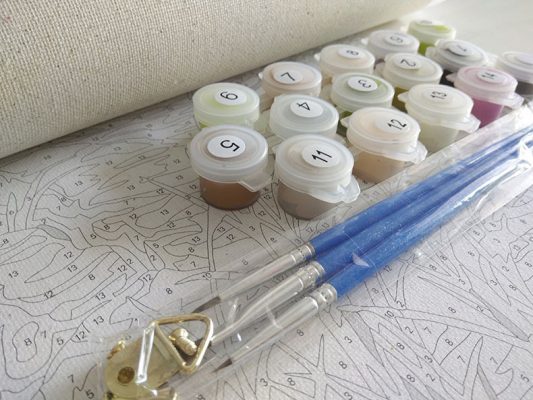 Step 1:
Lay your canvas out on a well-lit area flat surface.
Prepare a small container of water to clean your brushes when changing colors.
Organize your acrylic paint.
Keep a cloth or paper towel to dry your brushes in between washes.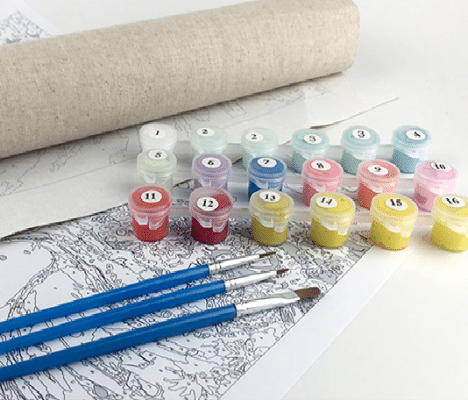 Step 2:
Match the number of the paint to the number of the area on the canvas (Be sure to match the number with the correct color).
Paint all areas with one color before moving to the next color.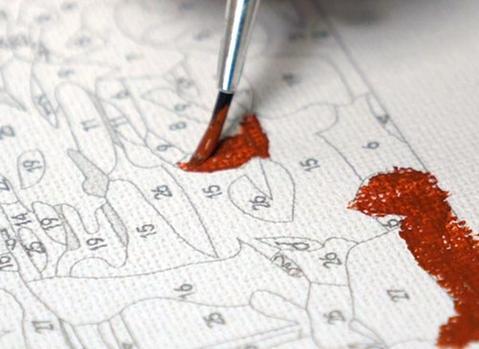 Step 3: Stand Back and Marvel at your creation. Thanks to paint by number, you will have the power to create the most beautiful piece of art. And the best part is that you have a clear, less cluttered, and less stressed body.